Do you need still a nice present???
Then give as a gift an action holiday at the Adriatic sea!
You can book in advanced for your friends or family one of our water sports services as a gift.
And we will send you a nice voucher by e-mail.
.
The fascinating landscape and crystal-clear water of the Croatian coast line inspire visitors from all
over the globe…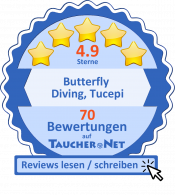 .
The welcoming hospitality and relaxed way of life, characteristic for Croatians, invite you to come here
to relax your spirits…
Our crew offers unique experiences for the whole family, above and below the sea.
This will be fun for the kids – and recreation for the parents…
Butterfly Diving Team!
We are looking forward to your visit!!!
.